High Velocity (mini-duct)


Unico Air Conditioners
SpacePak Air Conditioners



Unico Air Conditioners

High Velocity (mini-duct)
Fits in Any Space
All across the country, homeowners, business owners and commercial operations are enjoying the high performance and superior comfort of the Unico System. No matter when your home or building was built, or what its physical configuration, installing the Unico System is always a possibility - without compromising design or architectural integrity. Regardless of your building's age, design or construction, the Unico System is designed to fit. It's ideal for heating or cooling buildings with:
• Electric Heat
• Hot Water Heat
• Chilled Water Loops
• Steam Heat
• Radiant Floor Heat
• Inadequate or No Ductwork
• Inadequate Cooling on Upper Levels
• Limited Space
• Baseboard Heat
• Radiator Heat
Quiet Performance
The Unico System outperforms conventional heating and cooling systems by utilizing a patented high velocity system of air. Instead of typical units which operate at 500-600 feet per minute at the outlet, the Unico System operates at 2,000 feet per minute. But while you'll feel the comfort in our system, you won't hear it. The air handler is designed to isolate noise and vibration. In addition, our uniquely designed supply tubes are lined with sound-dampening, spun-bond nylon, providing you with quiet comfort.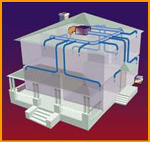 Little or No Remodeling Needed
The Unico System fits where other conventional cooling and heating systems can't - with little or no remodeling required! The modular air handlers and coils can be installed easily into attics, ceilings, crawlspaces and closets. The flexible mini-ducts can be routed through existing ceiling, floor and wall cavities, eliminating the need for unsightly and noisy metal ductwork.
Draft-Free, Even Temperatures Throughout Any Room
The Unico System works on the principle of aspiration. Unlike conventional systems which often leave hot and cold spots as well as drafts throughout the home or building, Unico's streams of air enter a room and gently mix with the room's existing air currents. From floor to ceiling, air temperatures are even and drafts are eliminated.

Removes 30% More Moisture
The Unico System provides an excellent degree of comfort. Air in the Unico System is passed directly over the evaporator coils at a colder temperature - 28° to 30°f colder for the Unico System compared to 15° to 17°f for conventional systems. With this unique difference, the Unico System removes 30% more moisture in the cooling mode than conventional systems. You'll enjoy fresh, pure air and feel more comfortable, even in areas of the country with high humidity.
SpacePak Air Conditioners

High Velocity (mini-duct)
What is SpacePak?
SpacePak is a unique and versatile solution to your air conditioning needs.
Suitable for residential and commercial properties, SpacePak is the flexible
choice for central air.
What Makes SpacePak Different from Conventional Air Conditioning?
•Small, 2" flexible tubing eliminates large, bulky ductwork
•Small inconspicuous outlets to match any décor
•Less humid by removing 30% more moisture
•Ultra-quiet cooling and heating
•Draftless for even comfort
•Quick and easy- installs in days
Learn more about SpacePak